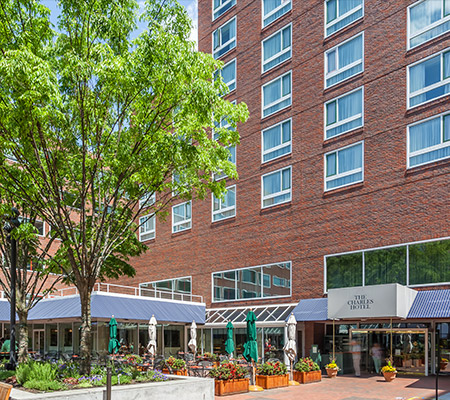 Adventure Abounds
The Local Scene: cambridge & harvard square
Our front doors open to the quaint and quirky charisma of Harvard Square. The bookstores, the Ivy League bustle, the sidewalk cafes and eclectic shops. Pick your pleasure, you're mere steps to it all. Anticipate waking up surrounded by inspired experiences in all directions, with the funky architecture of M.I.T. at one end and soaring spires of Harvard University at the other, and the tree-lined banks of the Charles River flowing alongside. Check-in to a remarkable Ivy League scene with sophisticated taste, and fill up on these Cambridge and Harvard Square pursuits:
harvard yard
A must for any Cambridge visit: A stroll through the 22 acres of sprawling green lawns and 18th-century buildings covered in ivy. Reminisce about your own college days while passing historic architecture, libraries, student dorms, and teems of university students and professors. Yes, there's that snowy scene in Love Story. And, yes, you must re-create it.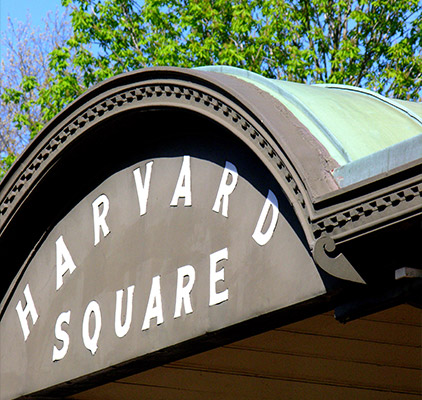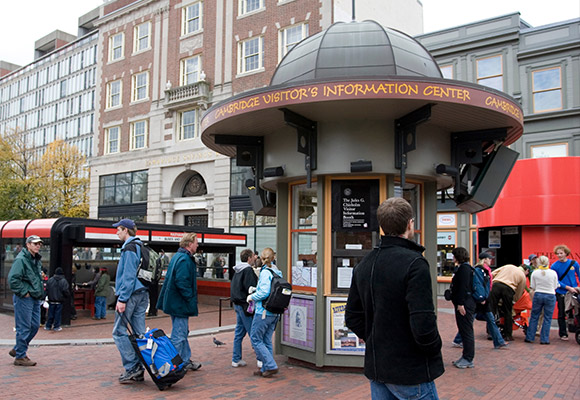 brattle theater
Catch foreign, cult, indie or classic films at this beloved art house theatre, featuring a single movie screen and a history that dates back to 1953.
Bookstores
Home to M.I.T. and Harvard University, it's little wonder Cambridge is brimming with bookstores feeding both the curious and the intellectual. Check out some of our favorites: the independent Harvard Book Store, Porter Square Books and Pandemonium Books and Games.
Charles River
Snag one of our bike rentals or enjoy an early morning run along the Charles River, with views of rowing teams, graceful bridges, and the shining Boston skyline. Or, rent a kayak or canoe for your own paddle adventure.
Take a seat for an enthralling theatre performance at A.R.T., located on the campus of Harvard University and recognized as the 3rd best regional theatre in the country by Time Magazine.
When it comes to authentic ethnic eats, locals flock to this diverse neighborhood off-the-beaten path for Brazilian barbecue at Midwest Grill, Portuguese fries at Casa Portugal, and Irish shepherd's pie at The Druid.
Indulge in a day of museum-hopping, right on Harvard University's campus. Check out renowned magnificent oil paintings and sculptures from German-speaking Europe at the Busch-Reisinger Museum. Spend an afternoon soaking in the vast collection of rare paintings and sculptures from the Middle Ages to now at the Fogg Art Museum. Then, get blissfully lost among the hallways of the Arthur M. Sackler Museum, graced with Chinese bronzes, Buddhist cave temple sculptures and ceremonial weapons.
From artificial intelligence to architecture, 3D holograms to oceanography, satiate your inner techie and scientist at M.I.T.'s museum showcasing 150 years of education and research.
BOSTON
From Faneuil Hall to Boston Common to the Freedom Trail, this city has an undeniable cache of culture and history known the world over. Locals burst of Yankee pride and it's easy to see why: Boston is home to spirited neighborhoods like Beacon Hill, Back Bay and North End, along with locavore restaurants, chic shops, and intriguing galleries – all reached by scenic strolls.
Or, jump on the subway or in an Uber/Lyft to get around one of the country's most exuberant cities:
Walk Into History
Boston is where history unfolded, from the Boston Tea Party to the Battle of Bunker Hill, to the country's first public school. Once you step foot on the city's cobblestone streets, it's only a matter of minutes until you reach a historic site, reliving the days of the first colonists and forefathers. Wind your way around the city on the Freedom Trail, connecting 16 sites from the start of the American Revolution. Peek into the rooms and hallways of Paul Revere's home. Then, toss your own crate of tea into Boston Harbor off of the Boston Tea Party Ship.
Culture Takes Center Stage
The city's history shares the stage with an exuberant arts and culture scene. Us locals know this well – our calendars are packed with visits to libraries, museums, symphony orchestras, contemporary art galleries, and theatres. Catch an alfresco concert at the Hatch Shell. Revel in the Boston Pops at Symphony Hall. Lace up for a day of exploring the Museum of Science, Museum of Fine Arts or the Children's Museum.
Bites of Boston
Craving seafood? You've come to the right place. Boston and the New England coast are brimming with all it – all fresh, all local. Not much can top fresh steamed lobster, creamy chowda, and oysters on the half-shell, all harvested right on our shores. From intimate eateries to chef-led hot spots, you'll find local seafood on almost every menu.
But don't stop there, devour flavor-packed Asian dishes in Chinatown, decadent pasta plates in the North End and discover eclectic cuisine stretching across the city. Don't miss browsing and biting your way through Fanueil Hall Marketplace, an expansive food hall and market with 50+ eateries. Whatever your mood, you'll find it: From lobster rolls, to pastrami sliders, to wicked good cupcakes. Nibble on that.