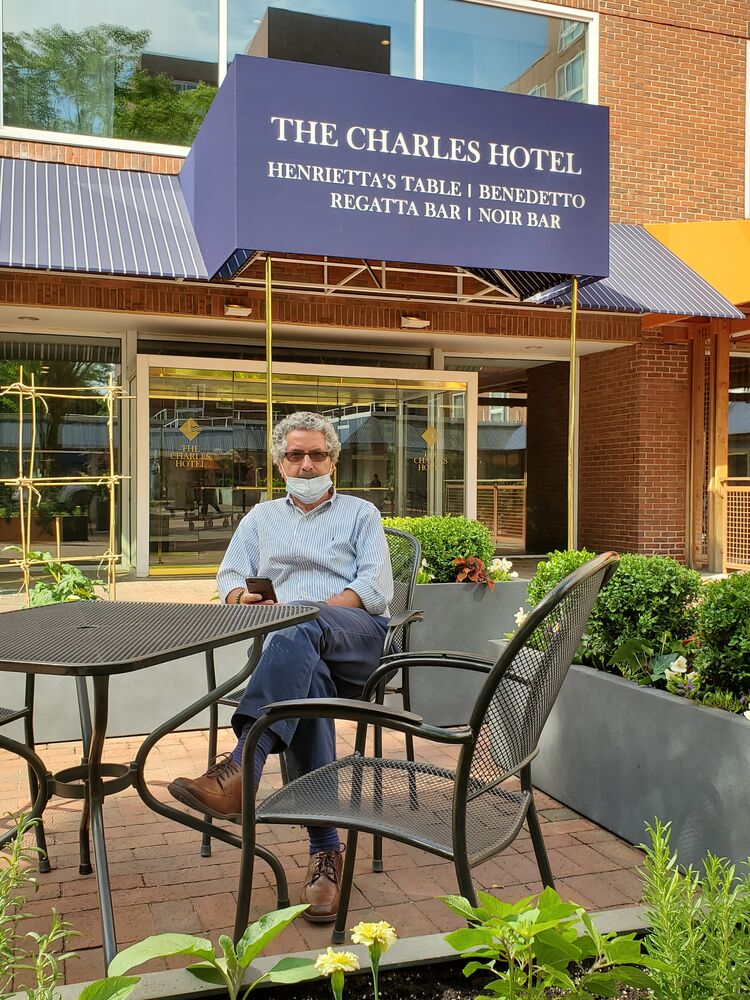 Dear guests,
It is with gratitude that we welcome you back to The Charles Hotel. You planning to visit us, gives us the energy and hope for a steady and safe road to recovery. Our safety plan is in place with you and our associates in mind. We look forward to seeing you soon!
Until we meet again,
Alex Attia
General Manager
The Charles Hotel
The Charles Hotel and Henrietta's Table will reopen to guests on Monday June 15, and we'd like to share the health and safety measures we're implementing for opening day.
Safety Smart Plan
The number one priority for The Charles Hotel is the health and safety of our guests and associates.
We understand now more than ever the need for an increased level of trust and flexibility in your choices away from home. The Charles Hotel is dedicated to following the state of Massachusetts guidelines and CDC requirements to ensure your stay is as safe as possible. The Charles Hotel has been deep cleaned and sanitized, maintaining a frequent schedule of ongoing sanitizing and cleaning.
With that in mind, we want to inform you about our new processes and protocols as you plan your stay. The Charles Hotel remains the smart place to stay.
Arrive Smart
Arrivals and assigned guestrooms will be spaced out, to allow for individual check-in. Guests will be greeted at the front drive personally.
Self-parking only. Valet parking has been temporally suspended unless requested.
Check-in will be expedited to accommodate minimal contact for the guest.
Registration cards will be printed by the Guest Service Associate and presented to the guest, with a clean, sanitized pen. Team members will be required to place all pens in a designated box after every use to have the pens properly sanitized.
Hotel will have available clean and disinfected in-room amenities such as coffee makers, tea pots, extra hangers etc. upon request.
The hotel requires one family/couple to use elevator at any given time. Face masks must be worn at all times.
Bellman will be available to assist with luggage as needed upon request.
Stay Smart
Hand sanitizing stations are located throughout the property. Common areas are regularly cleaned and disinfected, especially high touchpoints.
Disposable masks and gloves are available upon request for our hotel guests.
Guestrooms will be left empty for a minimum of 24 hours between guest stays to allow for proper sanitizing.
Modified Housekeeping services are available upon request in accordance with the state of Massachusetts guidelines and CDC requirements.
Notepads and pens are available upon request.
Contactless Laundry and Dry Cleaning services available.
No mini-bar service will be available at this time.
Dine Smart
Henrietta's Table
Al Fresco Dining Available, no Indoor Seating at this time. Seating has been adjusted to allow for social distancing compliance. We are serving Breakfast, Lunch, and Supper for Take-Out Food as well as Grab and Go.
Reservations are encouraged. Please call Host Stand 617-661-5005 or please visit https://www.henriettastable.com/ to book reservations in advance. Walk in parties will be accepted on a first come, first serve basis.
We will offer single-use disposable menus for each party.
Tables will not be pre-set with utensils or condiments in accordance state of Massachusetts guidelines. Condiments will be offered upon request either in single serving portions or in individual packaging.
Utensils offered will be sanitized and rolled individually / or single-use disposable utensils will be available.
All associates will wash their hands every 30 minutes and table servers must wash their hands and apply hand sanitizer between each table interaction.
Enhanced food and beverage safety guidelines are being followed, and surfaces are sanitized in between parties.
Staff will text the party once the table is ready and it is safe to approach the host stand.
Benedetto
Benedetto is open for dinner service and takeout service
New operating hours will be Tuesday through Saturday 5:30 PM until 9:00 PM.
Parties will be limited to a maximum of six guests and outdoor seating will be utilized whenever possible.
We take the safety of both our staff and you, our guests and friends, very seriously and are taking the necessary steps to open strongly, confidently, and to exceed the standard for dining safely in Greater Boston.
In Room Dining
In Room Dining service is temporarily suspended. Take-Out Food and Grab and Go options available through Henrietta's Table.
Depart Smart
Departure times can be scheduled in advance with Front Office department to maintain social distancing in hotel lobby.
Bellman will be available to assist with luggage as needed upon request.
Guestroom folios will be sent via email avoiding traditional front desk check-out.